Tuesday 23 rd September 2014
The computer programs used in the field of artificial intelligence (AI) are highly specialized. They can for example fly airplanes, play chess or assemble cars in controlled industrial environments. Scientists have now created an AI program that can learn how to solve problems in many different areas. The program is designed to imitate certain aspects of children's cognitive development.
Monday 22 nd September 2014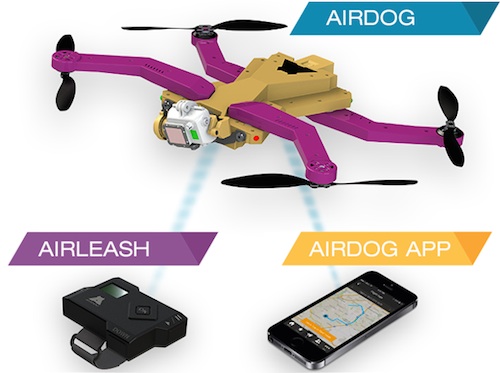 In Robots Podcast #165, Audrow Nash interviews Edgars Rozentals, the CEO and Founder of Helico Aerospace Industries. They talk about the company's upcoming product AirDog, which is an autonomous quadrocopter designed to record video for action sports. Airdog is controlled by means of 'AirLeash' (a wearable) to track the user as they move and provide the user with simple control of AirDog. Additionally, for advanced control, there is a smart phone application that allows the user to control the flight-path, following angle and height, and mark obstacles. AirDog recently completed a successful KickStarter campaign, raising nearly seven times their original funding goal, and plans to begin delivery in December 2014.

Read On | Tune In
Monday 22 nd September 2014
In a big step for securing critical information systems, such as medical records in clinical settings, researchers have created a new approach to computer security that authenticates users continuously while they are using a terminal and automatically logs them out when they leave or when someone else steps in to use their terminal.
Monday 22 nd September 2014
Researchers have created a new search algorithm that improves a robot's ability to find and navigate to tagged objects. The team has implemented their system on a PR2 robot, allowing it to travel through a home and correctly locate different types of tagged household objects, including a medication bottle, TV remote, phone and hair brush.
Sunday 21 st September 2014
The line between creativity and statistical analysis blurs the harder you look at it, and machines are looking hard: They will cross it eventually.