Sunday 25 th January 2015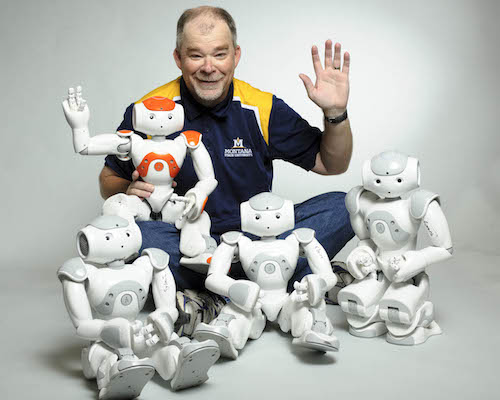 In episode #174, Audrow Nash speaks with Hunter Lloyd, a Professor of Robotics at Montana State University. Hunter, who interrupted his college education to tour as a comedian for six years, performs a comedy act for all ages with partner Looney, a NAO Humanoid Robot from Aldebaran Robotics. Lloyd discusses making people laugh with his robot partner, why he does it, and how what he's learned as a comedian relates to robotics.

Read On | Tune In
Thursday 22 nd January 2015
Thursday 22 nd January 2015
DAVOS, SWITZERLAND (January 21, 2015) – Singularity University (SU) and Yunus Social Business (YSB) have announced a new partnership within the Singularity University Impact Partnership program. The Impact Partnership was announced at the World Economic Forum by Dr. Peter H. Diamandis, co-founder of Singularity University, and Dr. Muhammad Yunus, founder of Yunus Social Business, to concentrate on the use of accelerating technologies and social entrepreneurship for global development in some of the most vulnerable areas of the world where YSB is active.
Dr. Muhammad Yunus and Dr. Peter Diamandis, at the World Economic Forum
"Singularity University's mission is to educate and empower the brightest people on the planet with the tools of exponential technology and entrepreneurship to solve humanity's greatest challenges," said Dr. Diamandis. "Our new partnership with Yunus Social Business will bring to SU a valuable new network of experienced professionals in the field who have intricate knowledge of local community needs and access to capital. This is essential to our SU Lab accelerator community and global network of entrepreneurial alum to understand these challenges first-hand from the user standpoint and interact with the local populations. The field network will also provide opportunities for beta testing innovations."
Yunus Social Business applies business approaches to the world of social development by using an 'incubate and finance' methodology that bridges the gap between social businesses and philanthropic lenders and donors, with local acceleration programs and or funds currently in Brazil, Colombia, Mexico, Haiti, Albania, Uganda, Tunisia and India.
Dr. Yunus distinguished the partnership "as a means by which the Yunus Social Business worldwide network can gain exposure to the latest thinking on accelerating technologies, Silicon Valley-style entrepreneurial thinking, networks and capital. We will work with SU to focus particularly in the areas of security, public health, food, energy, water, education and environment."
The partnership is intended to facilitate a greater sharing of resources between both organizations. This will include, but not be limited to speaker exchanges in Silicon Valley and around the world; Field Innovation Exchanges to share ideas and test related innovations in the field; Innovation Challenges, in line with SU's Global Impact Competitions; and the ability for the YSB network to attend SU's 10-week summer Graduate Studies Program, as fellows and advisors. Dr. Yunus will deliver the keynote address at the 2015 Opening Ceremonies for the Singularity University Graduate Studies Program on June 15 in Mountain View, California.
About SU Impact Partners
Singularity University forms Impact Partnerships with global and regional organizations that are actively working to solve humanity's grand challenges. Field Innovation Exchanges (FIX) are a central component of each partnership and provide a critical link between cutting-edge technological innovation and the field realities of humanity's grand challenges. FIX is an opportunity for long-serving field staff of international organizations to step out of that environment, come to SU to learn about exponential technology and entrepreneurship, and take those lessons back to the field projects of partner organizations. Through the SU Impact Partnerships, SU is building a global ecosystem of innovators and organizations working to solving humanity's grand challenges.
For additional information, please contact:
Diane Murphy, Singularity University, diane@singularityu.org
For more information on Singularity University programs: www.singularityu.org
For information on Yunus Social Business: www.yunus.com
Wednesday 21 st January 2015
Wednesday 21 st January 2015
Optimization algorithms, which try to find the minimum values of mathematical functions, are everywhere in engineering. Among other things, they're used to evaluate design tradeoffs, to assess control systems, and to find patterns in data. Scientists have come up with a way to generate a sequence of simplified functions that guarantees the best approximation that the method can offer.